Dec 12, 2014 @ 05:33 AM — by Edward Deason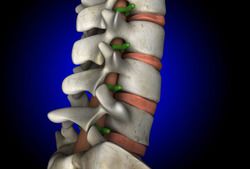 Just about everyone has or will experience a minor injury in life. While these injuries can be painful and may be a nuisance, the consequences are often short-lived. However, in the matter of more serious injuries, consequences are likely to be severe and may last for many months, years, or even a lifetime. For instance, a spinal cord injury can have a significant impact on a person's day-to-day functions and abilities. This type of injury can impact a person's bodily functions, their ability to work, and their daily quality of life. Attorney Edward J. Deason, serving clients in Torrance, discusses possible causes of spinal cord injuries and when it is advisable for victims to seek legal counsel regarding the damages of a spinal cord injury.
What Causes a Spinal Cord Injury?
The spinal cord is a part of the body that plays a role in a great number of a person's functions and movements. This is because the spinal cord contains nerves that connect to the brain and extend all the way down the back, helping to control movement of the arms and legs, reflexes, and even bladder control. If these nerves are jostled, pinched, or injured in any way, it can cause an array of consequences that vary in severity and can even include partial or full paralysis. There are a number of accidents or situations that can cause a spinal cord injury, including the following:
A serious slip or fall
Motorcycle or automobile accidents
Industrial work accident
Assault, including a gunshot or knife wound
Sports or recreational accidents
One common link that ties all of these causes together is that in most cases a spinal cord injury could have been prevented by the use of safer and more diligent practices or measures.
Do I need Legal Counsel?
Although spinal cord injuries are often caused by accidents, it is very rarely the case that there is not a person or party responsible for the injury. If a fall, accident, or injury occurred because another party was reckless or negligent in their actions, it is advisable to seek legal counsel to discuss the details of your case. A spinal cord injury may result in a lifetime of medical, financial, and personal hardships, and it is important that these burdens do not rest on the shoulders of the accident victim. Edward J. Deason can look at the circumstances of a spinal cord injury to determine if financial compensation may be due. We can help clients collect financial compensation for damages such as medical expenses, future medical care, lost wages, pain and suffering, and a loss of quality of life.
Contact Us
If you or a loved one has suffered from a spinal cord injury and you believe that another individual or party is at fault, contact us to discuss your case. Edward J. Deason understands the laws regarding personal injury cases and has a history of successful claims in spinal cord injury cases. Mr. Deason and his team will work hard to ensure that you are fairly compensated to the extent of the law. We look forward to hearing from you.